Well, kinda. Here are some photos of where I've been the past few weeks. I hope this explains my relative quietude on the bloggy front.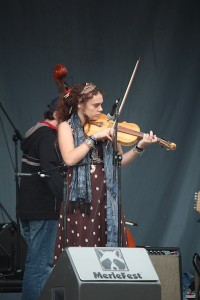 I've been traveling a lot, but now I'm home for a couple months, but I do have one big announcement – I'll be at NY Comic Con this year! Yep, I'm sharing a small press booth at one of the biggest cons in the US this October. Hope you'll come by if you're in the Apple!
Now for where I've been – Merlefest was a couple weeks ago now, and it's always one of my favorite weekends of the year. This year I discovered a couple of great new bands. This chickadee is with a band called Jubal's Kin. They're from Asheville and have a great sound. Check 'em out.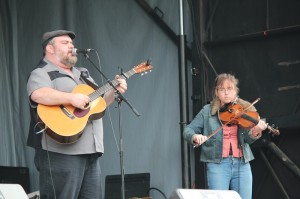 This bunch is also from Asheville and is called Johnson's Crossroad. The singer sounds like a bigger Tom Waits, and their songwriting is amazing. Their album is on my list to buy soon.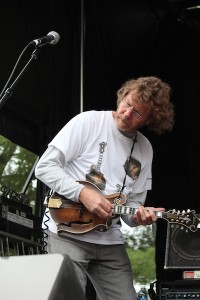 If you've been around this site for a while you've heard me talk about the Hillside Album Hour at Merlefest, which is one of the musical highlights of my year. The Waybacks pick a classic rock album, rehearse it, bring in amazing special guests, and play the album track by track. This thing has grown ridiculously over the five years or so that they've done it, and now there's something like 10,000 people sitting on a hillside listening to some of the best musicians in the world jam to cover tunes. It's THE thing to do at Merlefest on Saturday afternoon.
Past albums include (and I have been to every one of them) – Led Zeppelin II, Sticky Fingers, Abbey Road and (my personal favorite) Eat a Peach. This year's selection was Jimi Hendrix's Are You Experienced? And the crowd certainly experienced something special in this nearly two-hour set!
Sam Bush was amazing as always on the hill.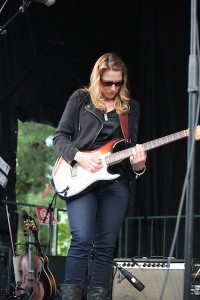 Susan Tedeschi and the Tedeschi/Trucks Band were only scheduled for one set Saturday night, but they were all over the place, jammin' on the hill, joining Sam Bush for his Friday night set (their version of Bell Bottom Blues was amazeballs), hangin' for part of Los Lobos' set, and then doing their own jam.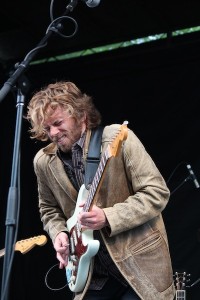 James Nash of The Waybacks not only rocked the Jimi guitar, he got political with his Vote Against Amendment One sticker on his guitar. Way to speak out for equality, James!
And for the first time at Merlefest, I got some good pictures of the man himself, one of the living legends of bluegrass, Mr. Arthel "Doc" Watson.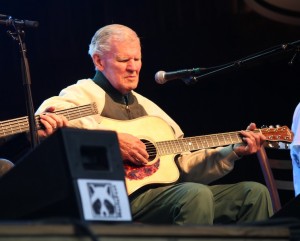 If you've never seen Doc live, you'll be amazed at what this old man can do. I recommend the "Three Pickers" album, with Doc, Earl Scruggs and Ricky Skaggs jammin' at Reynolds Auditorium in Winston-Salem.
But that's not all I've been up to. I wandered out to Arkansas for the Pulp Ark 2012 con, and had a great time hanging with the folks there.These photos all by Suzy Deacon, who knows how to use my camera much better than I do.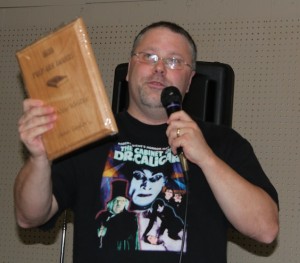 This is what my friend Sean Taylor looks like when he's accepting his award for Best New Writer (which he beat me out for, congrats!).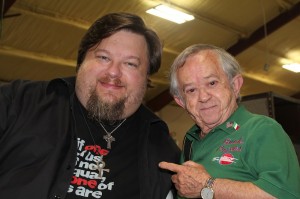 This is me chillin' with Felix Silla, better known as Cousin It on the Addams Family and Twikki on Buck Rogers.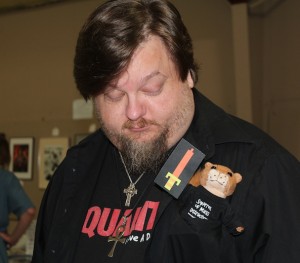 This is me giving the stinkeye to my new friend Link, the Squirrel of Mass Distraction, acquired from my buddy Allan at Kerlak Publishing.
I had a great time at Pulp Ark, but I'm happy to be home for a little while. Next up is ConCarolinas, then HeroesCon, then Fandom Fest, all in June.
Alright, that was a bunch of photos, and a bunch of links. Now I'm off to Theatre Charlotte to touch up programming lighting cues for 25th Annual Putnam County Spelling Bee, then back to editing.