From the mind of EPIC-award winner for Best Horror Novel John G. Hartness comes the best-selling Quincy Harker, Demon Hunter series of novellas.
Book I – Raising Hell
Straight out of the pages of the legendary vampire novel Dracula comes a demon hunter for the modern world. Mina Murray and Jonathan Harker had a son. They named him Quincy. His guardian angel calls him Q. Dracula calls him nephew.
Demons call him The Reaper.
"There are things in this world that men and women aren't meant to understand. We aren't supposed to know these things exist, much less how to fight them. The things that go bump in the night, the monsters in the closet, the shadow out of the corner of your eye — that's where I live."
This exciting new series from the author of The Black Knight Chronicles and the Bubba the Monster Hunter short stories is a walk through the dark side, where things go bump in the night, and somebody has to bump back. Quincy Harker is that somebody.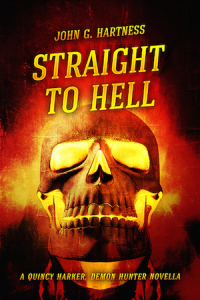 Book II – Straight To Hell
Quincy Harker is back, and the stakes are higher than ever. The fate of the world rests on the shoulders of a swearing, drinking, misanthropic half-vampire with a bad attitude and an itchy trigger finger. Harker and his team of misfits have just a few days to prevent the actual end of the world, as a group of fanatics have kidnapped a young man thought to possess the power to open the Seven Seals.
The thrilling sequel to Raising Hell brings even more action, more explosions, and more Renfield to readers.
"Overall this was a fun read and for all urban fantasy fans, you will love this if you like Harry Dresden, Frank Trigg or Atticus the druid. Quincy Harker's first foray was quite an enjoyable one and if it's any indications, then I look forward to the future volumes with gusto." – Fantasy Book Critic
"I am looking forward to the next Demon Hunter story." – I Smell Sheep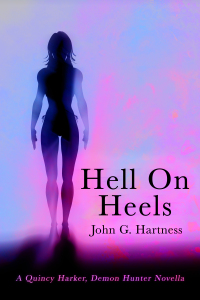 Book III – Hell on Heels
You think your family has baggage? Quincy Harker has to not only deal with his uncle's psychotic vampire ex-minion Augustus Renfield, but there's a new Vampire Hunter in town, and her name is Van Helsing! It's not a good day for a foul-mouthed magic-using demon hunter, and it gets worse when the original Renfield kidnaps the current Renfield to lure Harker and his Uncle Luke (you can call him Dracula if you prefer) into an ambush.
"John Hartness' sense of humor, sarcasm and snark makes his tales unique."