This is a pile of my other work. I've written everything from Science Fiction to Contemporary Fantasy to Poetry, and it's all available here. Check it out!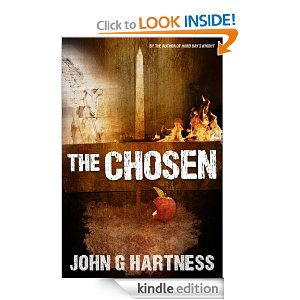 The Chosen is my first novel, and I describe it as a whiskey-soaked mildly sacrilegious contemporary fantasy. Get it digitally for Kindle or Nook, or in analog edition from CreateSpace. 
What do you get when you mix a couple of immortals, a snotty archangel, the Father of Lies, a redneck street preacher and a couple of wiseass waitresses from Texas? You get a cross-country road trip to save the world, of course!
Adam (yeah THAT Adam) has been around for a long time, but even he's never seen anything like this. He has to gather his ex-girlfriend and his youngest daughter with his ex-wife (you remember Eve, right?) and his oldest surviving son (Cain) and get them across the country for a meeting with Archangel Michael and Lucifer to determine the fate of the world. Along the way there are strip clubs, cheap beer, expensive whiskey, biker bar fights, shotgun blasts in motel parking lots, sing-alongs in public parks and other wild adventures as our group of intrepid immortals and universal icons travel to save the world.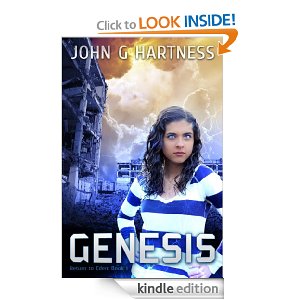 Genesis is currently only available digitally for the Kindle, but is also available in print. 
The end of the world was just the beginning.
Now they have to stay alive.
17-year-old Christin Kinsey started the day with nothing more pressing than an English exam. But when an EMP attack knocked out all technology across the globe, she found herself in the mountains of Georgia trying to stay alive in a world suddenly thrown back in time a hundred years or more.
New revised and re-edited edition.
And when she starts shooting lightning bolts out of her hands, things get really weird. Christin, her younger brother Matt, and Matt's cute friend Dave have to figure out what this new world is about, why they suddenly have super powers, and what happened to their mom in this apocalyptic fantasy novel geared for audiences 16 and up.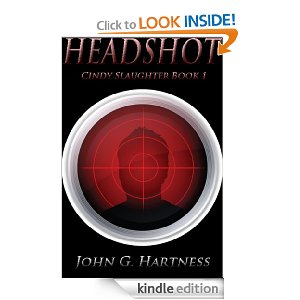 Headshot is a novella, introducing a teenage girl assassin. Some people just need shooting. And Cindy's just the girl to do it. Available digitally for Kindle and Nook, and also available in print. 
She's a black belt. She's a world-class sniper. She's a sophomore.
Meet Cindy O'Shea, a normal high school student dealing with homework, a best friend who's a geek, a single mom with her own issues, and the toughest after-school job in the world.
She's an assassin.
Follow Cindy, her best friend Tina, her nemesis Tamara and Tina's hottie brother Jason to New York City for a Broadway show with a little post-show kidnapping and mayhem for an after-party.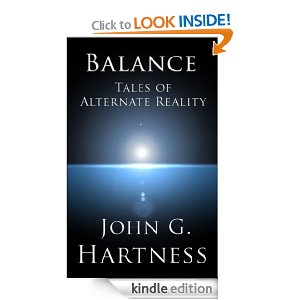 Balance is a collection of three science fiction short stories. Available only in ebook for Kindle and Nook. 
In Balance, the title story, a young girl working at a fast food restaurant is given a special keypad that controls the fortunes of her customers. She finds out the hard way that for every action, there is an equal and opposite reaction.
In Lenora, a ragtag group of survivors looks urgently for shelter from an alien invasion. Their salvation comes from the unlikeliest of places…or does it? This is a tale of hope in a hopeless world.
Getting Ahead explores the lengths a father will go to in order to secure a better place for his children. The old desire to see your kids have it better than you did is taken to the extreme in this chilling tale of love and sacrifice.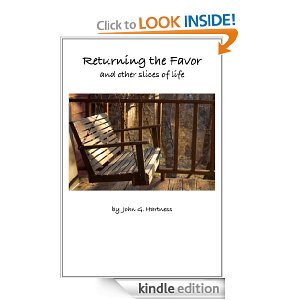 Returning the Favor – My first collection of short stories, poetry and narrative non-fiction was published in late 2009. It's a collection of blog posts, true and false stories from a decade or so of my life, and was my first experiment with self-publishing. It's a decent peek into my twisted head. Be careful, here there be monsters. Available for Kindle and in print.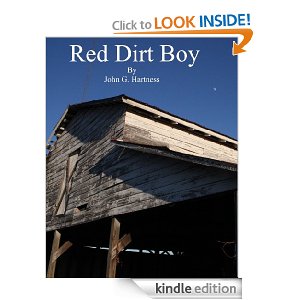 Red Dirt Boy – This collection of poetry is culled from a year or two of submissions to various literary magazines, online and off. One of the poems in here won the Charlotte Writers' Club Board Prize for Poetry, and another was nominated for a Pushcart Prize. I still write the odd poem here and there, but for the most part have switched my focus to fiction. This is available for Nook and Kindle.