So I know there are still a bunch of people out there who love print books. I know this, because I see a bunch of you at conventions and shit. And I know there are people who love autographed books, and might not be able to get to a convention to see me.
So here's the deal. I'll sign whatever you want, and I'll mail it to you. I'll inscribe it to whoever you like, only don't make me write anything that would make your grandmother blush. Not that I really give a shit, but Granny emailed me yesterday, and she says she's tired of getting nasty notes in the mail, so knock it the fuck off, already!
Shipping is figured in, and you can click through to go to PayPal and pay with a credit card even if you don't have a PayPal account. I'll probably throw some bookmarks in there, too, and if you buy more than $100 worth of shit, I promise to throw extra stuff in the box. I dunno what it will be. It might be an extra book, it might be more autographed shit, it might be dirty laundry. No, I will not ship you my underpants.
Nah, fuck it, if you want underpants, I'll send you underpants. But you should really get therapy for that. For real, I'm medicated and I think that's fucked up.
So here you go – a new way to buy my shit!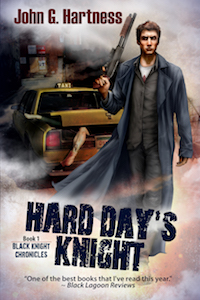 This is the cover for Hard Day's Knight, but it actually is the buy link for the Black Knight Omnibus. this collects the first three Black Knight book into one easy-to-derry Omnibus edition. It's $22.95, plus shipping.
Contains Hard Day's Knight, Back in Black, and Knight Moves.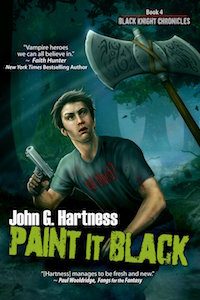 The fourth book of The Black Knight Chronicles. This book actually won me an award, which was kinda cool. Paint It Black won the EPIC (Electronic Publishing Industry Coalition) Award for Best Horror Novel, which was nice. It came with a little statue and everything. It also made me start saying that I write horror, since that's what the award is for. I always called it all urban fantasy before that.
But anyway, it's $12.95.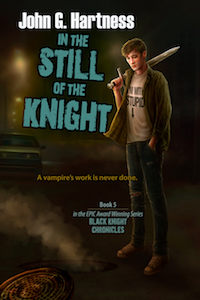 I think this is the darkest of the Black Knight books. To say I was dealing with some shit when I wrote this one is like saying that Lance Armstrong had a slight problem with his balls. I'm still very proud of the way the book came out, particularly the one scene that I told my editor "you might need to pull me back a little on this one." She did, and she was right, and it's a better book for it.
Also $12.95.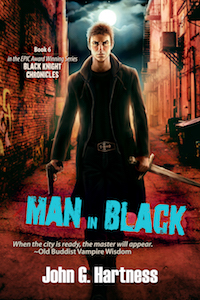 When I started writing The Black Knight Chronicles, this was going to be the last book, and it still marks a decent cutoff point for the first arc of the series. As I went along, I realized I still have a few stories left to tell for these guys, so there will be three more, but this wraps up the first six book stretch pretty well, I think.
Still $12.95