So I know there are still a bunch of people out there who love print books. I know this, because I see a bunch of you at conventions and shit. And I know there are people who love autographed books, and might not be able to get to a convention to see me.
So here's the deal. I'll sign whatever you want, and I'll mail it to you. I'll inscribe it to whoever you like, only don't make me write anything that would make your grandmother blush. Not that I really give a shit, but Granny emailed me yesterday, and she says she's tired of getting nasty notes in the mail, so knock it the fuck off, already!
Shipping is figured in, and you can click through to go to PayPal and pay with a credit card even if you don't have a PayPal account. I'll probably throw some bookmarks in there, too, and if you buy more than $100 worth of shit, I promise to throw extra stuff in the box. I dunno what it will be. It might be an extra book, it might be more autographed shit, it might be dirty laundry. No, I will not ship you my underpants.
Nah, fuck it, if you want underpants, I'll send you underpants. But you should really get therapy for that. For real, I'm medicated and I think that's fucked up.
So here you go – a new way to buy my shit!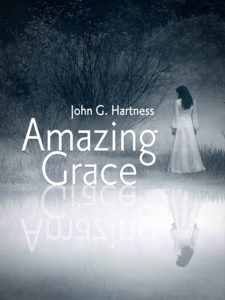 Amazing Grace
Jessica Fletcher meets Aunt Bea meets Odd Thomas in this Southern Gothic Paranormal Mystery with a dose of romance from award-winning novelist John G. Hartness.
Lila Grace Carter is your favorite new detective, you just don't know it yet. She's determined, smart, caring, and sassy as the day is long. She also talks to dead people. Of course, as she puts it, "I'm Southern. We all talk to dead people down here. The difference is, they talk back to me."
"A modern Southern Gothic with charming characters—living and dead. Hartness expertly blends a sinister, small-town murder with the warmth, humor, and innocence of a cozy mystery. Lila Grace is an entertaining amateur sleuth. Highly recommend."
—E.J. Stevens, award-winning author of the Ivy Granger Psychic Detective series
Also available in Hardcover (Shipping may take longer, I'll email you if it's not in stock).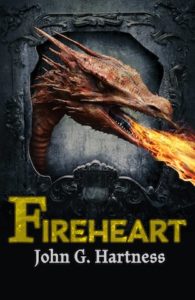 Fireheart
Rachel doesn't know what's weirder – that there's a dragon in the woods by her school, or that Scott Morrison actually thinks she's beautiful. Or maybe it's the elves. Yeah, it's totally the elves.
It was an ordinary weekday for Rachel Hampton. You know, like every day – you wreck your bike on the way to school because the gorgeous queen snot of the universe slams on the brakes of her spanky little convertible right in front of you, so you swerve to miss her and get run over by Scott "Oh My God" Morrison who is so nice and so cute and so out of your league. Then there's dodgeball in gym, which not even getting in a bike v. car argument earlier in the day will get you out of, because your gym teacher is a sadist, and of course then you hear the explosions, because no matter how much you scream at your geologist father, he can't stop the mining company he works for from blowing the top off a nearby mountain and destroying the environment, but it's West Virginia, so it's not like explosions are a new thing around here.
But then the dragon wakes up. And everything gets really, really weird.
$10.00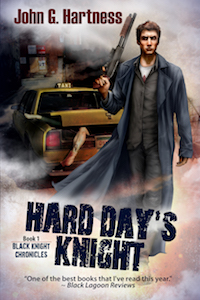 The Black Knight Chronicles: Lots of Vampires. No Sparkles. Serious Snark.
This Omnibus Edition collects the first three full-length novels (Hard Day's Knight, In the Still of the Knight, and Man in Black).
What happens when a couple of comic book nerds get turned into vampires and decide to play Batman by becoming private detectives?
Hilarity, that's what!
Praise for the Black Knight Chronicles–
"Honestly, this is one of the best books that I've read this year and certainly a new series that I will be following." –Black Lagoon Reviews
"This is another great book in what will hopefully be a large and successful series. I know I will be eagerly awaiting the next installment." — Indie Book Blog
$22.95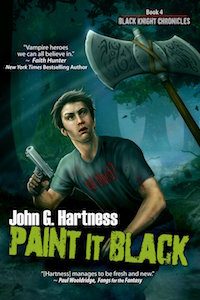 Paint it Black
Goblins and Witches and Trolls . . . oh crap!
In the fourth installment of The Black Knight Chronicles, Jimmy Black is having a terrible, horrible, no good, very bad day and a darned fine pity party, serving the finest alcohol, when a call from his not-quite-girlfriend-cop forces him to sober up and stare at jawbones.
$12.95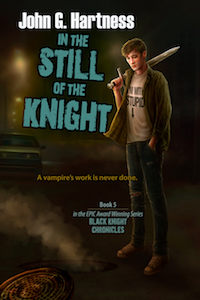 In the Still of the Knight
The bodies are piling up!
Murders are happening outside Charlotte's hottest nightspots. A new vampire society has set up shop in the sewers. And Jimmy Black's about to run afoul of the Master of the City. If Jimmy weren't already a vampire, the week ahead would be the death of him.
Between murder, monsters, pesky vampire ethics, and territorial disputes, Jimmy is about to discover how far he's willing to go to save the world and one friend's soul.
$12.95.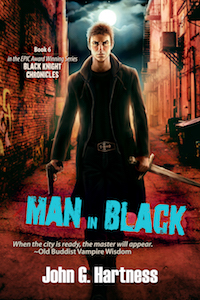 Man in Black
Jimmy Black's knack for stumbling into the right place at the wrong time has landed him his dream job or worst nightmare–Master Vampire of the City.
Almost everyone that works for him wants him dead.
His best friend isn't speaking to him.
His girlfriend is now his ex-girlfriend.
And the Vampire Council has appointed a watchdog who'll decide if he lives past Thursday.
He has a kidnapping to solve, monsters and demons to fight, and a whole new crime empire to figure out.
Then there's Lilith . . .
Join Jimmy as he tries to put his (un)life back together and stay alive long enough to save the world. Again.$12.95
$14.95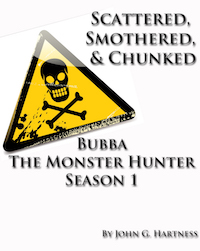 Scattered, Smothered, & Chunked – Bubba the Monster Hunter Season 1
The first collection of Bubba the Monster Hunter shorts is here! This volume collects the first ten stories plus an origin novella for Bubba, explaining why he stopped playing football and started playing punching bag for monsters. Also includes the origin of Bubba being unable to pronounce "chupacabra."
$15.00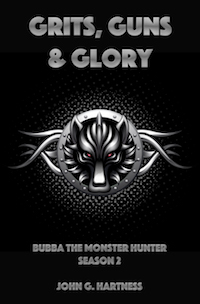 Grits, Guns, & Glory – Bubba the Monster Hunter Season 2
This is real original, but Season 2 picks up right after Season 1 ends! I know, right? How crazy is that?!? Yeah, not so much. But anyway, here's another ten shorts and one novella featuring everyone's favorite redneck monster hunter, or at least the one whose exploits paid for my pickup truck. Includes the infamous "SquatchDong" scene that I've read at conventions all over the South.
$15.00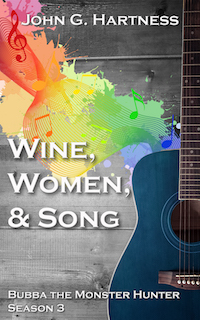 Wine, Women, & Song – Bubba the Monster Hunter Season 3
Season 3 of Bubba features two of my favorite things I've ever written, Midsummer, where I blend my life in theatre with my writing life to retell Shakespeare using Pokemon Go! as a framework (yeah, really!), and Oh Bubba, Where Art Thou, which features cameos by my sister, my niece, her husband, my brother-in-law, and my mom. That piece if very special to me, much more so than I think is evident to a casual reader, but that was kinda the plan when I hid my family in a retelling of A Christmas Carol mashed up with The Devil Went Down to Georgia. Four novellas this time, instead of short stories.
$15.00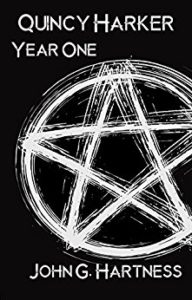 Year One: A Quincy Harker Collection
Year One collects the first four Quincy Harker novellas, including the Manly Wade Wellman Award-winning Raising Hell. Get the whole set here, and I'll include a hell-raising inscription to whoever you like!
$20.00
Also available in hardcover!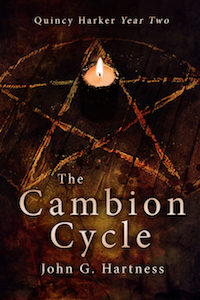 The Cambion Cycle: Quincy Harker Year Two
The Cambion Cycle encompasses Year Two of the Quincy Harker series, and features four serialized novellas of Harker and his "friends" battling evil and trying to save the world, no matter how little some folks deserve saving. Check out The Cambion Cycle and learn how to really raise Hell in Atlanta!
$20.00
Also available in hardcover!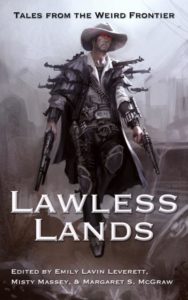 Lawless Lands: Tales from the Weird Frontier
Lawless Lands features 20 stories by some of the best voices in Sci-Fi and Fantasy today, including Seanan McGuire, Faith Hunter, David B. Coe, Edmund Schubert, Laura Anne Gilman, Nicole Givens Kurtz, Barb Hendee, and me!
Also includes a brand new Bubba the Monster Hunter short story not available anywhere else!
$17.00