Omnibus Edition featuring Books 1-3 Now Available from Bell Bridge Books!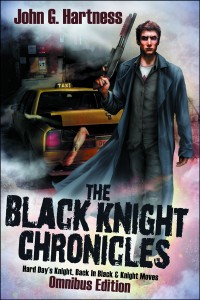 The Black Knight Chronicles Volume 1 – Hard Day's Knight introduces us to James Black and Gregory Knightwood, proprietors of Black Knight Investigations. They're dedicated to righting wrongs, defending the helpless, bringing light into the darkest of shadows…
Ok, maybe not so much with the bringing light bit. Our boys are vampires, after all, and not so much for the bringing of light stuff. But Jimmy and Greg aren't your typical bloodthirsty, sex-starved, viciously studly vampires. Ok, maybe they're a little blood-starved and sex-thirsty, but they try to keep that all under control. They're more like your dorky kid brother who just happened to get turned into a vampire and now has to stay out of the sun. Forever.
In Hard Day's Knight they're hired to protect a kid from a witch's curse, but it all turns out to be more than they ever expected as they battle zombies, witches, demons, strippers and their own evil appetites to try and save the world. And maybe, just for once, get the girl.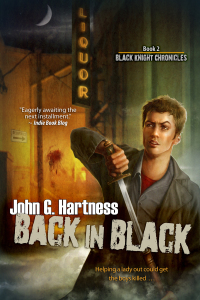 Volume 2 – Back in Black – The boys have saved the world, now what? Now what turns out to be a relatively mundane string of apparent hate crimes that becomes personal when Sabrina's cousin is attacked. It gets less mundane when the boys get involved and end up in FairyLand trying not to cause an inter-dimensional incident. It gets even LESS mundane when the guys end up in a grand battle royal for their lives against nasty fairies and trolls, with the betting stacked hugely against them!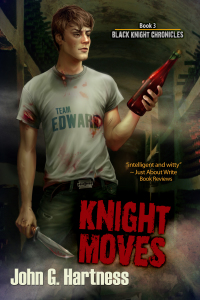 Volume 3 – Knight Moves – In the third installment of The Black Knight Chronicles, vampire private investigators Jimmy Black and Greg Knightwood discover they may be tied to a string of serial killings at the college and that they suddenly aren't the only vampire game in town.The vampire count in
Charlotte is at least three. Or more. As far as the unhappy boys are concerned, anything more than two is a crowd not to be tolerated.
While tracking down the killer and the competition, they encounter coeds, booby traps (not related to the coeds), and a hirsute bounty hunter with a moon fetish and a bad attitude. To catch the killer, Jimmy will have to survive a dive headfirst into the great unwashed horde of Dorkdom (game night at the local comic shop).
What's a red-blood drinking vampire to do?  His job.  Again.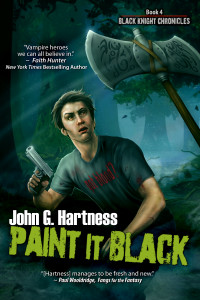 Volume 4 – Paint It Black 
Goblins and Witches and Trolls . . . oh crap!
In the fourth installment of The Black Knight Chronicles, Jimmy Black is having a terrible, horrible, no good, very bad day and a darned fine pity party, serving the finest alcohol, when a call from his not-quite-girlfriend-cop forces him to sober up and stare at jawbones.
"Cold case" takes on a whole new meaning when vampire detectives risk life and limbs (literally) to connect a series of decades-old kidnappings in Charlotte with current missing persons cases. All clues lead through the veil of Faerieland to the legendary Goblin's Market, a magical bazaar where anything is available–for a price.
The boys can barely stay out of trouble in Charlotte. As fresh meat at The Market, they'll be lucky to survive the day.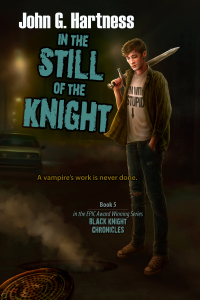 Volume 5 – In the Still of the Knight
The bodies are piling up!
Murders are happening outside Charlotte's hottest nightspots. A new vampire society has set up shop in the sewers. And Jimmy Black's about to run afoul of the Master of the City. If Jimmy weren't already a vampire, the week ahead would be the death of him.
Between murder, monsters, pesky vampire ethics, and territorial disputes, Jimmy is about to discover how far he's willing to go to save the world and one friend's soul.
There are no easy choices, even for vampire geeks.
The boys are back with all-new monsters to battle, puzzles to unravel, and asses to kick in this fifth volume of the award-winning The Black Knight Chronicles series.