He's Big. He's Bad. He's heavily freakin' armed. And he's here to kick a whole lot of monster ass! "Cross Larry the Cable Guy with The Dresden Files, and you have Bubba the Monster Hunter."
As the official SouthEastern Regional Monster Hunter for the Holy Roman Catholic Church, Bubba is the guy who gets the call when supernatural beings threaten the mundane world. Aided by his best friend and techno-wizard Skeeter, he roams the South in search of cold beer, hot strip clubs, cheap ammo and things that go bump in the night. This comedy-horror series has fans rolling in the aisles and begging for new monthly installments. What are you waiting for? Get on the Bubba bandwagon today!
The Bubba the Monster Hunter series is a mostly monthly series of short stories. They are released in ebook format, then when there are four out, I collect them. Whenever I get a "season" finished, I put them in a print collection. So there's Bubba coming for a long time.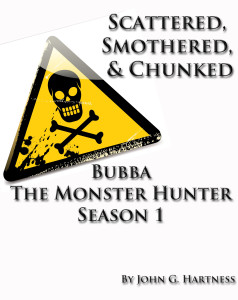 Scattered, Smothered & Chunked is the collected Season 1 of Bubba. This collects all three of the smaller collections into one easy package. The print is handled by Dark Oak Press, and the electronic is handled by me.
Monsters Beware collects the first four Bubba the Monster Hunter stories. Pick up Monsters Beware for Kindle or Nook for only $2.99. 
Voodoo Children –
In this first Bubba the Monster Hunter story, everybody's favorite redneck is chasing zombies through the hills of Tennessee. Follow Bubba through beer joints, strip clubs and graveyards as he and his best helper Bertha (a .50 Desert Eagle Pistol) make sure that what's dead, stays dead.
Ballet of Blood –
He's back and badder than ever. Bubba the Monster Hunter returns in the hilarious follow-up to Voodoo Children. In Ballet of Blood, Bubba has to investigate a mysterious touring dance troupe that of course turns out to be more than he expected. Bubba, backed up as always by the hilarious Skeeter, has to make do with his wits and what weapons he can find backstage at a theatre to get out of his most dangerous adventure yet.
Ho-Ho-Homicide –
Bubba's back and this time he's in costume! Everybodys favorite redneck monster hunter goes undercover as a mall Santa to get to the bottom of a series of mysterious murders. Along the way he encounters snotty kids, annoying mothers, a smokin' hot elf, the spirit of Christmas and a tribe of fairies that would rather make war than toys!
Tassels of Terror –
Bubba's back, and this time it's personal! A mysterious fire destroyed a topless club in South Carolina, and Bubba must get to the bottom of the mystery and rescue a missing stripper before more bloodshed ensues. A timeless story of love and pole dancers by the author of Voodoo Children and Ho-Ho-Homicide.
This collection also features a pair of John Hartness short stories never before available for purchase!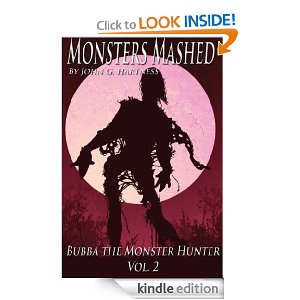 Monsters Mashed features the next four Bubba the Monster Hunter short stories, and begins the first major story arc in the tales of everyone's favorite Desert Eagle-swinging redneck monster hunter. Available for Kindle or Nook for only $2.99. 
Cat Scratch Fever – Bubba the Monster Hunter returns in a love story for the ages! Okay, not really. But there are big guns, bar fights, cheap women, cheaper beer, even cheaper one-liners, and a six-foot tiger taking a leak on a headstone. No really, that last part happened.
Love Stinks – Bubba's back! There's a cupid on the loose in a nursing home, and he's wreaking havoc with broken hips, high blood pressure and horny octogenarians! Can Bubba and his pistol-packing nun sidekick save the day before the cupid plants a magic arrow in our favorite Monster Hunter?
Hall & Goats – Bubba's back, and this time he's chasing a creature he can't even pronounce! A mysterious creature called a chupacabra is attacking livestock in Florida, and Bubba's on the case! But there's someone else investigating this chimichanga, too! Who is it? Is she hot? Will Bubba get her naked before the story is over? And what the hell is Bubba doing hunting chalupas in a dry county?
Footloose – Bubba hunts a bigfoot in Virginia mountain country and finds so much more, including a hottie federal agent and a blast from his past that will change Bubba's life forever. And probably not for the better!
BUT WAIT, THERE'S MORE BUBBA!!!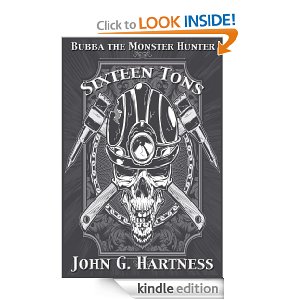 Sixteen Tons continues the adventures of Bubba, Skeeter, Agent Amy and Uncle Father Joe. Bubba's back and he's another day older and deeper in debt! Well, not really, but he's butt-deep in goblins and running low on bullets! Little green monsters have climbed out of a coal mine in West Virginia, and Bubba's here to save the day.
Pick up Sixteen Tons for Kindle or Nook for just $.99!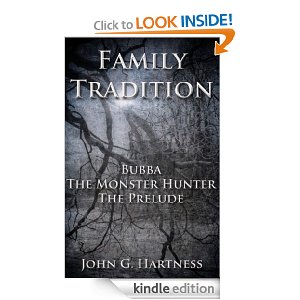 Family Tradition is a prequel novella to the Bubba the Monster Hunter series. It should probably be read right after Sixteen Tons. Get yours for Kindle or Nook for $2.99.
THIS is the story Bubba fans have been waiting for!
How did Bubba become a monster hunter?
What happened to his father?
What will he and Agent Amy have to deal with when they find him?
Join Bubba, Skeeter, Bertha and a lot more of the Bubba clan as we go deep into the past of everybody's favorite XXXL-sized monster hunter. Plenty of action, booze and bloody fighting in this prelude to the Bubba the Monster Hunter series.
This ebook includes a short story from Eden Royce, entitle "Doc Buzzard's Coffin," a trip into the root magic world of SC's low country.