I promised y'all another edition of The Big Bad, and while it took all of 2014 and a little piece of 2015 to deliver, it's coming now! The Big Bad II will release on February 24th from Dark Oak Press and Media, and here's the awesome cover!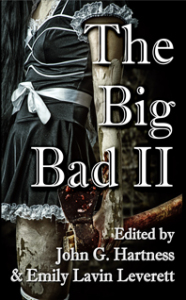 Volume 2 includes more stories of evil and monsters like:
Mercy's Armistice – J. T. Glover
A Family Affair – Selah Janel
Old Nonna – Gail Z. Martin
Letters to Logroth – Jason Corner
Skippin' Stones – S. H. Roddey
The Sea Witch – Kasidy Manisco
A Day in the Life – James R. Tuck
Overkill – Sara Taylor Woods
Voodooesque – Eden Royce
A Fitter Subject for Study – Sarah Joy Adams
Ghosts and Sands – Jay Requard
Teacher of the Year – Riley Miller
Feels Like Justice to Me – Edmund R. Schubert
Portrait of the Artist as a Psychopathic Man – Stuart Jaffe
The House on Cherry Hill – Emily Lavin Leverett
Sticks and Stones – Bobby Nash
Sweet Tooth – Nicole Givens Kurtz
Just Pretending – Linden Flynn
Phone Home – E. D. Guy
I Think of Snow – J. Matthew Saunders
Little Gods – Neal F. Litherland
Drawing Flame – Misty Massey
The Witch Hunter – M. B. Weston
The Cully – D. B. Jackson
You might notice that there is a name missing from that list – mine. I don't have a story on this year's anthology, sorry to say. With everything that went on in my life in late 2014, I couldn't pull my crap together enough to write a good one, and anything I had working wasn't of a quality to stand beside the stories we had, so I decided not to include a story. I also stepped away from a lot of the editing, leaving the lion's share of the work to Emily Leverett, who stepped up and made the whole thing happen. We still have a book that we're both proud of, with some incredible stories by new and established writers, and a couple of tie-ins to existing story or novel series that I can't wait for y'all to read. This is an incredible collection, and I'm thrilled for y'all to get it in your hot little hands.