Here's a quickie for you about what's going on and what's coming up soon.
First, a new Bubba the Monster Hunter Novella just dropped yesterday. Moon over Bourbon Street is the beginning of Season 3, and the beginning of an arc of novellas featuring everyone's favorite monster hunter. Check it out at Amazon or wherever you buy ebooks!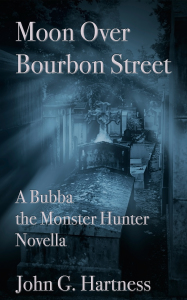 Then we've got the print edition of Grits, Guns & Glory, Bubba Season 2. It is FINALLY on the way, thanks to the layout talents of one Matthew J. Saunders, who helped me with the interiors and did a far nicer job than I ever could. So I'll be using him or someone like him for future self-dubbed print projects. You'll notice that GG&G has a different cover in print than it does in ebook, and that's all about my Photoshop limitations. The cover I made for GG&G looked decent in thumbnail size on Amazon, and it looked okay in low-res, but it looked like flaming shit when I went hi-res for printing. So I took the image from Bad Moon Rising and built a new cover around that. Sometimes the best-laid plans, and all that. But here's the print cover, and I think it turned out okay.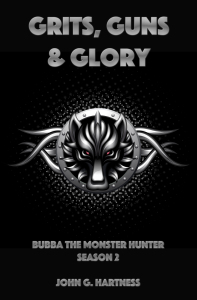 There's a LOT brewing on the audiobook front. First, all five Black Knight Chronicles books are now available on Audible, so if you'd rather listen than read, you can keep up with the adventures of Jimmy and Greg. Also, Bubba Season 1 should be available on Audible in mere days, followed shortly by Raising Hell, Harker #1. Harker #2, Harker #3, Bubba Season 2, AND Knight (un)Life, a Black Knight short story collection, are all in production. So there should be a lot of audio available between now and the first of the year.
I'm hard at work on Black Knight #6, about 2/3 of the way through the book, and I'm working on a new Harker novella for next month, so stay tuned for more releases.