So the vast majority of this post was taken directly from Derek Canyon's blog post of yesterday. I asked him to send me over the copy because I'm lazy and I didn't want to write a blog post of my own announcing this very excellent project. I am very proud to be part of Twelve Worlds, and hope that everyone who enjoys the Black Knight Chronicles will buy a copy to get the exclusive Black Knight story!
I'm pleased to announce that the science fiction and fantasy short story anthology, Twelve Worlds, is now available for $2.99 on Amazon.com. Buy it here!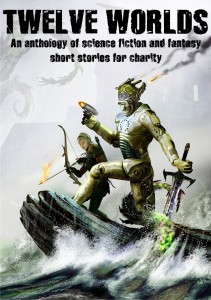 I contributed a Black Knight Chronicles short story, Daddy Issues, to the anthology. The story takes place before the events in Hard Day's Knight, so it should be a lot of fun for fans of the series. Admittedly it's still a little surreal to me to think about having "fans," but I think it's actually starting to be true, so I'll try not to make snide comments about the fact that I have fans. It's kinda been a dream of mine, and is somewhat hard to believe that it's happening, but that's beside the point.
Daddy Issues was a challenge for me, because I don't do many short stories. The shift from writing a 60,000-word story to a 4,000-word story was a tough thing for me, because I've kinda got my rhythm down for how the books go. In a novel, I take my time setting up the main fight, then there's a red herring or two, a final plot twist then a resolution, usually with a big honkin' fight at the end. In a short story, I had to strip away all the extra twists and dig right down to the plot and resolution. I think the story still works, and it's pretty fun, so I hope you guys enjoy it. Plus the money goes to a great cause, so you should all buy it!
TwelveWorlds contains 14 short stories by new and aspiring authors. Genres include my own gritty cyberpunk as well as epic fantasy, romantic fantasy, paranormal detective mystery, star-faring scifi, and more. There's around 80,000 words total, so that's a great deal for $2.99.
Author royalties for Twelve Worlds will be donated to Reading is Fundamental, the nation's largest nonprofit children's literacy charity.
Here's a full list of the stories in this anthology:
By a Whisker by Kevin O. McLaughlin (3500 words): Someone is siphoning magical energy from the powerful ley nexus at Northshield University in this urban fantasy. Ryan goes to investigate, and gets help from an unexpected quarter.
The Accidental Muse by Amy Rose Davis (6200 words): A girl with no memory, a grieving widower, and a sweet-natured boy with strange power live a quiet life in their sheltered Keep until the night a traveling musician arrives at the door. The power of the musician's harp threatens to destroy their family unless one of them can stop it. A tale of gods, muses, mysterious spirits, and the power of love.
The Price of Vengeance by Derek J. Canyon (7400 words): In 22nd century Atlanta, Maggie hunts the genetically-engineered dwarf who killed her entire gang.
Insomnomancer by JE Medrick (3400 words): Witness life through the eyes of a predator. Kyle Hall, barely remarkable in a world of gray faces, is targeted by a very specialized hunter. To the target, it is night after sleepless night. To the Insomnomancer – a game of points and hungry satisfaction.
Thump by NB Kelly (4650 words): When a hitchhiker becomes part of an impromptu road trip, peace is the last thing that two young men will get out of it.
Iron in Shadow by Edward L. Cote (14900 words): The best thief in Rithmoor, the City of Dark Water, goes by the name Slip. He takes on a promising job, but it gets more complicated and dangerous the more he learns about what exactly it is he must do. To avoid certain death at the hands of the Great Magus Dibian, he must risk the wrath of the world's hardest people.
Together They Die by Brian Drake (3220 words): A former cop helps a ghost solve her murder.
Incubators by Manley Peterson (3200 words): Lost in space, three astronauts struggle to accept their fate aboard a crippled ship. Could a last-minute rescue be all they hoped for?
Cube by Coral Russell (4150 words): Luke's family isn't perfect, but they're worth saving. How far would you go to save your family?
The Star-Eater by K Gorman (6000 words): Karin wakes up one day on her starship, realizing her sister has been killed–but not before her sister cursed the murderer. Now she's got a man to kill. And her boss is starting to suspect that she's a little more than human…
Man-Maker by BC Woods (8050 words): A young boy in a society based entirely around defending itself against zombie-like demons refuses a sacred rite of passage.
Daddy Issues by John G. Hartness (4200 words): Vampires, voodoo, zombies and gold-diggers, it's all in a day's work for the boys at Black Knight Investigations. Vampire Private Investigators Jimmy Black and Greg Knightwood are called in to dispose of a zombie in the library, but there's always more than meets the eye where these detectives are concerned. Takes place before the events in Hard Day's Knight.
BONUS STORIES!
Weird and Wondeful by Tony Lavely (6000 words): Mailira and Marelsa together bring an old Scottish folk tale to life for a young musician.
The Light Stream by Jaylin Baer (3060 words): The transition between waking and sleeping, dreaded by some and enjoyed by others, becomes something altogether different for a very select few. Discover one woman's journey into the Light Stream.
So, if want to read new stories from 14 talented new authors, you should definitely buy this ebook! Who knows, you might find a new author that you really enjoy!
After reading it, don't forget to write up a review on Amazon. It really helps sales.
You can also visit the official Twelve Worlds website and discuss the stories.