I've come up with a title and the talented Rob Hinckley and I are finishing up a cover, so hopefully Genesis:Return to Eden Volume 1 will be ready to go on November 1. Here's a little sneak peek at the cover that I posted to the Twitter this morning –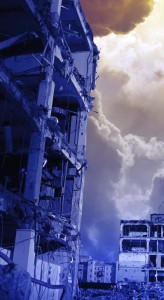 Yes I said "the Twitter." I can do that.
No, that's nowhere near the whole cover, it's just a corner of the image, enough to give you a sense of the setting.
Yes, I'll be posting some sample chapters and other fun stuff here in the near future.
Yes, this will be the last self-pubbed book I put out this year, because I got my contract from Bell Bridge and it's all signed and everything, and the schedule we're going to be on to release Black Knight Books is aggressive, and I will have little time to work on anything outside of that and maybe a few short stories for the next year at least. But the good news is that there will definitely be at least one new Black Knight book out in 2012, and quite possibly other goodies as well.
Bubba the Monster Hunter will be making a Halloween appearance (assuming I can find enough downtime to get the story written between now and then) and he'll be battling the scariest monster I can come up with – or more to the point, the scariest monster YOU can come up with! That's right – you get to pick the next monster Bubba hunts. Just leave a comment here and let me know what's the scariest thing you can think of, and if I pick your creature, I'll dedicate the story to you. You'll be forever immortalized on the internets and in e-books. Second place gets their name used as a victim of the first-place monster.
Dick Cheney has already been suggested, so that one's taken. By entering this contest you waive any and all rights to me having to pay you anything for this – it's just for funsies and you agree you can't sue my ass later. So let me know what scares the crap outta you, and I'll have Bubba kill it. Because that's what he does.