When John invited me to write a guest post about the genesis of my favorite character in my legal thriller, Irreparable Harm, my initial thought was to write about my protagonist, a tiny but fierce attorney named Sasha McCandless.  After all, I like Sasha well enough that I'm writing a series about her!  After further reflection, I decided not to write about Sasha after all; before I explain why, here's a synopsis of the book: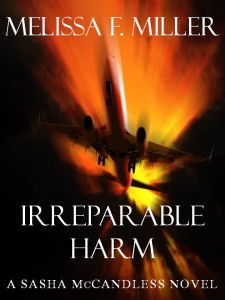 Attorney Sasha McCandless is closing in on the prize after eight long years: she's months away from being made partner at a prestigious law firm. All she has to do is keep her head down and her billable hours up.  Then a plane operated by her client slams into the side of a mountain, killing everyone aboard. Sasha gears up to prepare a defense to the inevitable civil lawsuits.
She soon realizes the crash was no accident: a developer has created an application that can control a commercial plane's onboard computer from a smartphone.  Now it's for sale to the highest bidder.  Sasha joins forces with a federal air marshal who's investigating the crash. As they race to prevent another disaster, people close to the matter start to die. And she's next on the list.
Sasha will need to rely on her legal training and her Krav Maga training in equal measure to find and stop a madman before he strikes again.
She sounds pretty awesome, right?  And she is.  But, I think my favorite character in this first book in the series is Sasha's boss and mentor, Noah Peterson.  Noah is a brilliant lawyer.  He's a senior partner in a major law firm with management responsibility, a solid client list, power, and prestige.  He has a beautiful wife and a lovely home.  He's also an alcoholic, workaholic absent husband who has just realized he's sacrificed his personal life for his professional life.
Noah's my favorite character because he's a cautionary tale.  I was once on the road to becoming him; but, in 2009, my husband (also an attorney) and I left our large, international law firms in Washington, D.C., and moved to a small town in Pennsylvania.  We opened up our very own teeny tiny two-person law office.  Now, instead of working seventy-plus hours a week, I can play with our three young children and work on my novels, as well as practice law.
Irreparable Harm isn't intended to be an indictment of big law firm life or an invitation to examine one's choices.  It's a legal thriller, meant to provide page-turning entertainment.  But, I have heard from multiple readers who've said they were more concerned that Sasha avoid Noah's fate than that she stop the bad guys!
I can't reveal how things ultimately work out for Noah without giving away some important plot points, but I can say he serves as a reminder to me of why I am where I am, doing what I'm doing, and he seems to resonate with a large cross-section of my readers, too.
Melissa Miller is a practicing attorney who lives in south Central Pennsylvania with her husband and three young children.  She is hard at work on the next book in the Sasha McCandless legal thriller series.  For more information about Melissa F. Miller and her books, please visit her website at www.melissafmiller.com.  To buy Irreparable Harm, please visit one of the following retailers:
Amazon as trade paperback and a Kindle ebook: http://www.amazon.com/dp/B004XDACV2
Barnes & Noble as a Nook ebook: http://www.barnesandnoble.com/w/irreparable-harm-melissa-f-miller/1100490011
Smashwords for Sony, Kono, and Apple ereaders: https://www.smashwords.com/books/view/54871?ref=MelissaFMiller