So I'm pretty sure that my editor and I just blew up Paint it Black, Book IV of The Black Knight Chronicles. I sent in my synopsis, and she did exactly what I want her to do – she poked holes in the book and called me on my BS. That, kids, is why I signed with a traditional publisher instead of continuing to do everything by myself. Having someone who's worked on a ton of books to look at a sketch of a book and say "nothing is happening, where's the excitement?" Is worth the chunk of royalty percentage I'm giving up. Especially at this point in my career. I've got five novels out, and I think I'm just learning to tell a story.
I'm not going to pitch everything I've written in Paint it Black, but I am going to blow up a fair bit of it. As I read my editor's notes on the synopsis, I realized that there were a couple of things that made this book very different from the others in the series, and not necessarily in a good way. There was practically no supernatural stuff going, I was almost 20,000 words in and we hadn't had a fight scene yet, and there was no Father Mike. These are problems. I love the character of Father Mike, and he needs to be in every book. The characters are vampires, and they fight supernatural bad guys, so there needs to be a supernatural element. And really, I went nearly a third of a book without a fight scene? God, I was doing some serious navel-gazing.
So I now have a totally new direction for the book, and I'm pretty excited about it. There will be supernatural stuff going on – fairies, trolls, vampires, and new monsters. There will be Father Mike. And there will be fighting. Oh yes, there will be fighting.
So that's my lesson for the week for self-pubbed authors. If you don't have someone you trust to bounce ideas off of, then go find that person. I chose a traditional publisher to fill that role, but it can be a critique partner, a friend, whatever. It's usually not a great idea of it's a spouse but your mileage may vary.
I'll leave you with a scene from Chattacon, where I spent the weekend chatting with some awesome authors and publisher types, got to watch one urban fantasy bestseller's phone leap unprovoked to its death in a vat of bourbon, and realized that writers drink even more than theatre folk. I gotta step up my game! And I got hammered on chocolate wine by mute writer with an iPad and an evil, evil soul!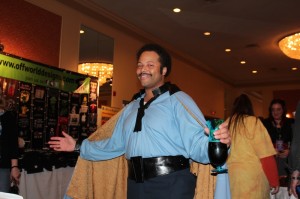 Lando says "Playa, please!"