I like to keep a lot of irons in the fire. A lot. So it should surprise no one that I've got more than one thing that I'm working on right now. Let's first take a look at my newest release – Cat Scratch Fever – a Bubba the Monster Hunter Short Story.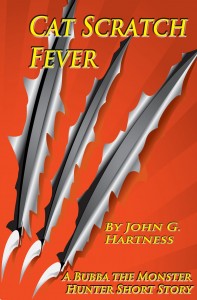 I've wanted to write a story about a rakshasa for a long time, and January's bowl games between Clemson and West Virginia (sorry, Clemson fans) and LSU/Alabama gave me plenty of tiger jokes to work into the story. I even went with the orange cover for my poor suffering Clemson fans. In short, there's a love story, a murder mystery, a bar fight, a magical sword and a bunch of giant cat-people kicking ass all over West Virginia. I think it's an absolutely ridiculous premise, which makes it pretty much perfect for a Bubba story. It's currently available on Amazon and Barnes & Noble.
That's currently the only Bubba story that is available on Barnes & Noble, because I'm trying a 90-day experiment with KDP Select. This is a way in which self-published authors can make their books exclusive to Amazon for three months, and in exchange they get to be available for borrowing by Amazon Prime members, and they can make their books free for five days out of the 90-day period. I'm trying this with the Bubba stories because I don't want my main property (Black Knight Chronicles) to vanish from Noon or iTunes for thee months, but I'm interested in seeing what happens with these properties. But as part of KDP select, various Bubba properties will be going free at various times for the next 90 days. Keep up with me on Facebook or Twitter to make sure you know when that happens!
Speaking of The Black Knight Chronicles, I've gotten more good feedback from my editor and have now written most of the outline for Book 4, plus most of the first chapter. I expect to get a lot of work done on that one this weekend, because I get to be in my house for most of the weekend and not drunk wandering around conventions with amazing best-selling urban fantasy authors and publishers. Full disclosure – I didn't get drunk with Gail Z. Martin or Allan from Kerlak, but we did have a lovely time talking writing, promotions and business at Chattacon. And I make no claims of anyone else's intoxication on Saturday night, but I was hammered  by the time I waved the white flag at 2AM. And I honestly believe that Laura Anne's phone dove into a glass of bourbon of its own accord. Really, I do.
And some people just licked books last weekend.
And speaking even further of my writing, and completely ignoring the fact that Chattacon had free beer in the con suite all weekend, there's a short story coming! It's actually already been out for a while as part of Twelve Worlds, a charity anthology I participated in last year, but the exclusivity is almost over and I'll be publishing it in a variety of formats this spring. It will come out as a stand-alone short story for $.99, then I'll collect it with Movie Knight, Black Magic Woman and Turkey Day Debacle (only available here on my site currently) and put those out as a small collection for $2.99.
I also have several shot stories that aren't Bubba stories or Black Knight stories that I'm probably going to put out there in the next couple of months as a collection. They're mostly sci-fi, a little fantasy, and some other randomness. So that's coming this spring as well.
The Cindy Slaughter story that I posted the beginning of here a little while ago is moving along. I think it might end up as a novella by the time I'm done. Right now I'm at about 8,000 words and I haven't gotten into the main plot yet. So it's going to either be a long novella or a short novel. Either way, that's coming, too. And someday there will be a sequel to Genesis, I promise.
And I'm in a play. I'm playing Dave in Almost, Maine for Ballantyne Community Theatre next month, so if you're in the Charlotte area on a February weekend and want to see me make a fool of myself and strip down to my longjohns on stage, come on out. And I still have seven weeks left at the day job. I think a lot of these projects are going to wrap up in March/April, as my writing time increases dramatically. I'm looking forward to that, because I'm feeling pretty motivated right now, and I want to harness that as much as possible.
Isn't there an old Bon Jovi song about sleeping when I'm dead?