I just wanted to toot my own horn here for a minute and thank Deirdra over at A Storybook World for giving this little corner of the interwebs a Brilliant Writer Award. It even comes with a cool badge thingy, see?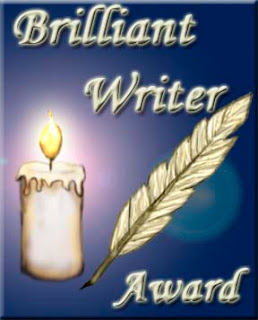 I really appreciate the kudos from Deirdra. It's nice to get these little attaboys from out of the blue, it helps remind me that I'm not completely screaming into the void when I post here.
I also want to take a quick second to thank everyone who retweeted, posted on Facebook or otherwise helped spread the word about my free books to vets and active military promo for Memorial Day Weekend. I gave away over 50 ebooks to veterans and active-duty servicemen and servicewomen, and it made me feel good to do something for the people who do so much for me.
I'm getting geared up for ConCarolinas this weekend! I'm looking forward to seeing some old friends, making some new friends, and probably being an opinionated jackass on at least a couple of panels. I doubt I'll get a new episode of Literate Liquors up before the con, but I'm going to try to get several episodes in the can during the con, so we'll have plenty of content for the summer. I enjoy doing the show, it gives me another excuse to drink! And there will be a live version of the show taking place at Fandom Fest in Louisville at the end of the month. I'm doing a panel with Jackie Gamber, who I stole this whole idea from. She does tea pairings with book selections, so we're going to do tea pairings, then liquor pairings of the same books, then we're going to end up getting drunk. If you're planning to be at Fandom Fest, definitely check that panel out!
Alright, kids, I'm gonna go do some more work on the new Bubba story, which I hope to have out early in June (no spoilers, but there's a lot of shooting in this one!). And the Bubba origin story is coming, but I'm not sure yet how to craft it. I haven't decided if it works better as a series of stories, or as a novel. I know that the current storyline will remain a series of shorts, but I'm not sure yet about the origin. I'll let you know as soon as I figure it out!