Nicole Givens Kurtz is awesome on so many levels. She's a mother, a writer, and a publisher, and an all-around cool person. She sent me an awesome essay – so I'm very happy to run this as the first Evolution post.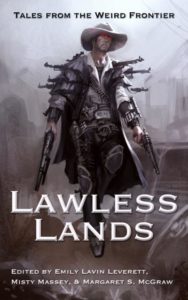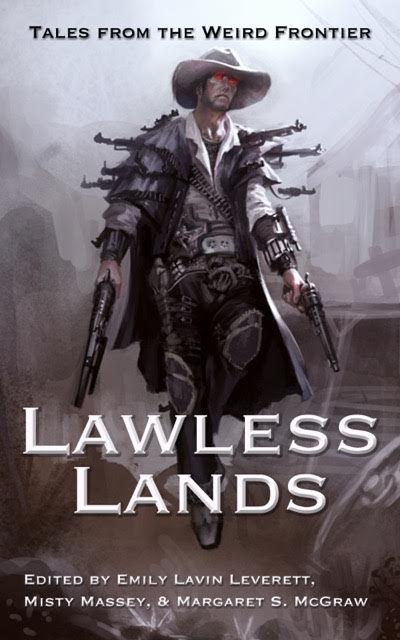 Weird Westerns are a sub-genre of speculative fiction. I was first introduced to this sub-genre when I lived in the Southwest and attended MilehiCon. While there, I met David B. Riley and his publishing company, Science Fiction Trails. He and Laura Givens were working on an anthology of weird westerns. Excited by the idea of creating a diverse populous in the old west, I went home and wrote a short story. I submitted "Justice" to them and it was accepted. The story appeared in Six Guns Straight from Hell.
It is from those stories in Six Guns that I fell in love with weird westerns. I was won over by the dynamics of steampunk, aliens, and of course, magic in the west. Will Smith's turn in The Wild Wild West movie conjured up all the western episodes from my past. The fact of a black man in the west, saving it from destruction, stuck to me, despite its silliness. For once, the hero wore my color skin and he was doing it with guns and a dark, black hat—no white hat heroes here!
Recently two of my short stories have appeared in Wolfsinger Publication's diverse weird western anthologies, Lost Trails Volumes I and II. Most of my southwest stories are weird. I write often about my time in the Four Corners area, but also focusing solely on people not commonly represented, Native Americans and African Americans.
My love affair with weird westerns extend beyond my stories.
I'm a huge fan of Stephen King's The Dark Tower and anime favorite, Cowboy Bebop. Other weird westerns favorites include Trigun, Samurai 7, and Samurai Champloo. What I enjoy about each of these titles are the diverse casting, the way the west was interpreted, and the dynamics—desperation–between all of the characters.
I'm just as big a fan of original westerns as I am of the weird kind. My mother used to spend Saturday evenings watching Clint Eastwood movies. While some people love The Magnificent Seven, I enjoy The Outlaw Josey Wells and others. Still, Unforgiven, is perhaps the one I love the most. I always cry when Ned dies. Yes, there are subtle commentary about the black cowboy dying in the film, but it's Morgan Freeman's portrayal of Ned that really drives my emotional attachment to him. It's also Eastwood's grief-stricken agony that tugs on my heart strings when he orders the town people to 'take care of Ned.'
And the threat that if they don't, he will come back for them.
Look for my weird western stories in two upcoming anthologies. One if Baen's Straight Outta Tombstone and the other is Lawless Land available from Falstaff. Both anthologies have some of the best writers in speculative fiction are contributing! Gail Martin, Misty Massey, and John Hartness to name a few. I'm lucky to discover weird westerns on this side of the Southwest. There are great rewards for those who haven't contributed. So stop by and boost the signal with a great big YeeHAW!
If you're weird too, you can find me online at @nicolegkurtz (Twitter), http://www.facebook.com/nicolegkurtz (Facebook) or at Other Worlds Pulp, http://www.nicolegivenskurtz.com
Nicole