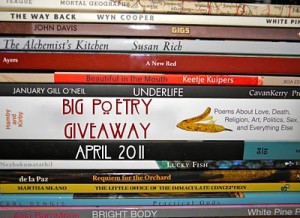 As we pull into the last couple of days of March (just a few hours left to enter my contest for a Kindle!), National Poetry Month is looming on the horizon. To celebrate said celebration, I'm going to participate in Kells' Poetry Book Giveaway! All you have to do is comment here to enter, and you're entered! One lucky winner will win a copy of Rhett Iseman Trull's amazing book, The Real Warnings. The consolation prize will be a copy of my book, Red Dirt Boy, signed by the redneck himself!
Yes, I know the link is to the ebook, but you are registering to win analog editions of both books!
I saw Rhett Iseman Trull read selections from this book last year at an event at the Green Rice Gallery, and it's simply one of the best books of poetry I've ever read. I laughed, I cried, I was in awe of the poems this woman crafted. I liked it so much I quit writing poetry for a month or two because I felt like I couldn't touch the quality that she nailed in this book. Don't worry, eventually my ego rose back to the surface and I resumed writing. But I still love the book and think everyone should have one, so leave a comment and you might just get one!
Red Dirt Boy is my second collection of poetry for people who think poetry is for wussies. There's laughing, shooting, drinking, strippers and even a little dancing scattered through the pages, and I'll be happy to autograph it for whoever wins. I might even spill a little moonshine on it just to complete the package! So leave a comment, and win a book!